I adore mini-albums. I enjoy the idea conception, process, and the end product immensely. Believe me when I say I miss making them dearly but it has been six months since I made this one for
Creating Keepsakes
. It was for a feature of the Graphic 45 metal film canister in the Latest and Greatest article. Now the magazine is out, I can share it on my blog.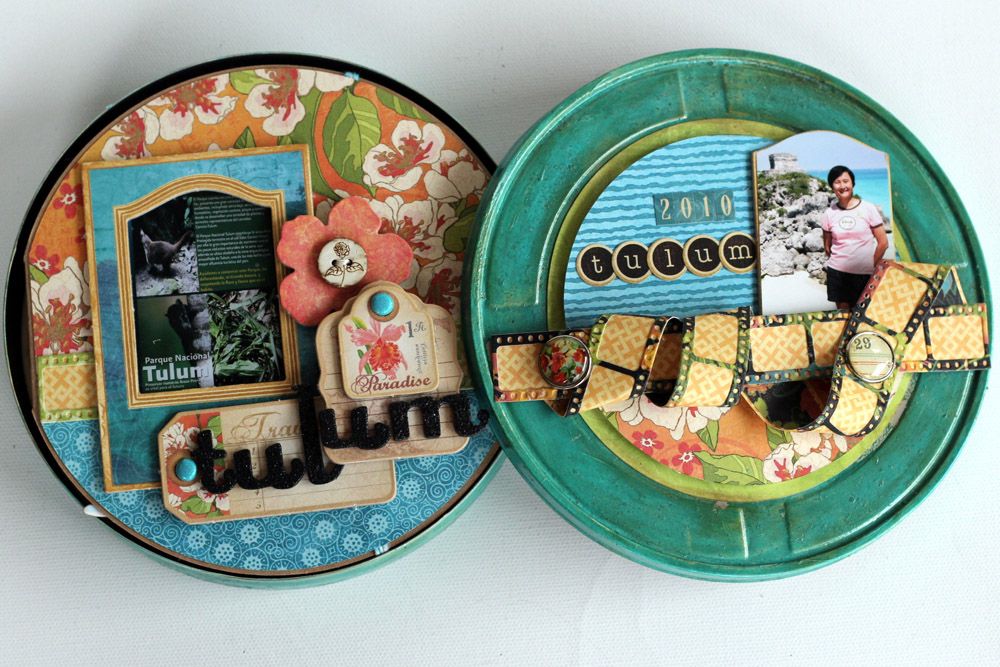 I spent an enormous amount of time working on the exterior of the tin. I bought a jar of gesso and coated the tin a couple of times. Then I used a jar of Shimmerz Pearlz in Tickle Me Turquoise and applied several coats. After all that, the edges were lightly inked up with distressed ink. This may not seem like a lot to some folks, but for this non-technique-y simple scrapper... oy vey... lol... coating and waiting for stuff to dry,
several
times! LOL. But by golly that tin cover looks good to me! This goes to show, if a simple scrapper like me can do it, so can anyone!
Playing off the idea of a film canister, the
mini-film strip die by My Favorite Things
came in handy. I created three strips. One was anchored onto the film canister and the other two were joined together and wrapped around the anchor. Two brads secured them all together.
Here are a few pages from the interior of the mini-album that was in the magazine. The CK editors chose to show this mini-album by extending all the pages at once. That would have been tricky for me to photograph even if I had thought of the idea.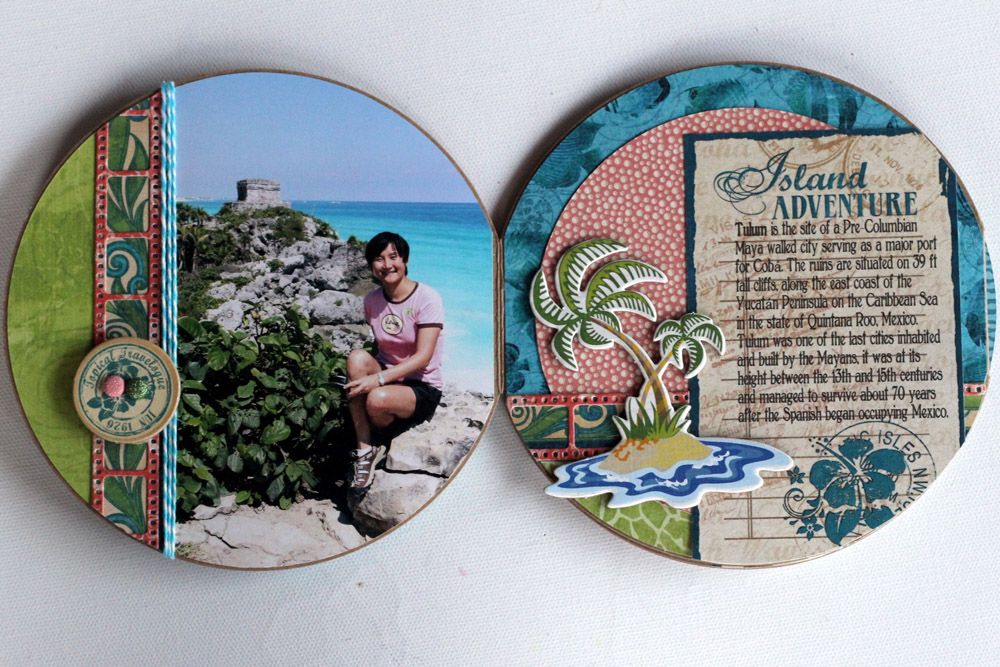 We visited Tulum as a shore excursion on the cruise we took back in 2010. A mini-album captures those eight hours perfectly. The photos I used here are 4x6 and my trusted Creative Memories circle cutters trimmed them to fit just right for the pages inside the metal film canister mini-album.
As seen in July/August 2012 issue of
Creating
Keepsakes
magazine. Copyright Creative Crafts Group. Posted with prior permission from the publisher.
In celebration of this labor of love, I am doing a give-away of Graphic 45 goodies including a metal film canister album!! The paper collections are from the days when I served on G45's design team so they are older. I sure hope these all fit into that medium flat rate box! I haven't tried yet! So I will open this up for anyone with an
U.S. address
who leaves a comment in the next seven days. No other strings attached, just a comment and hopefully that means I can access your blogger profile and get in touch with you.
Thank you so much for stopping by and have a wonderful day wherever you are!