When my parents came back this year, they brought with them a big box of unexpected treasure... the stash of photographs we left with my mother's brother when we emigrated from China in the 80's. My uncle had moved a few times and we had long thought or were told that our photos were thrown out, so you can imagine our collective joy to recover these tangible evidence of our lives.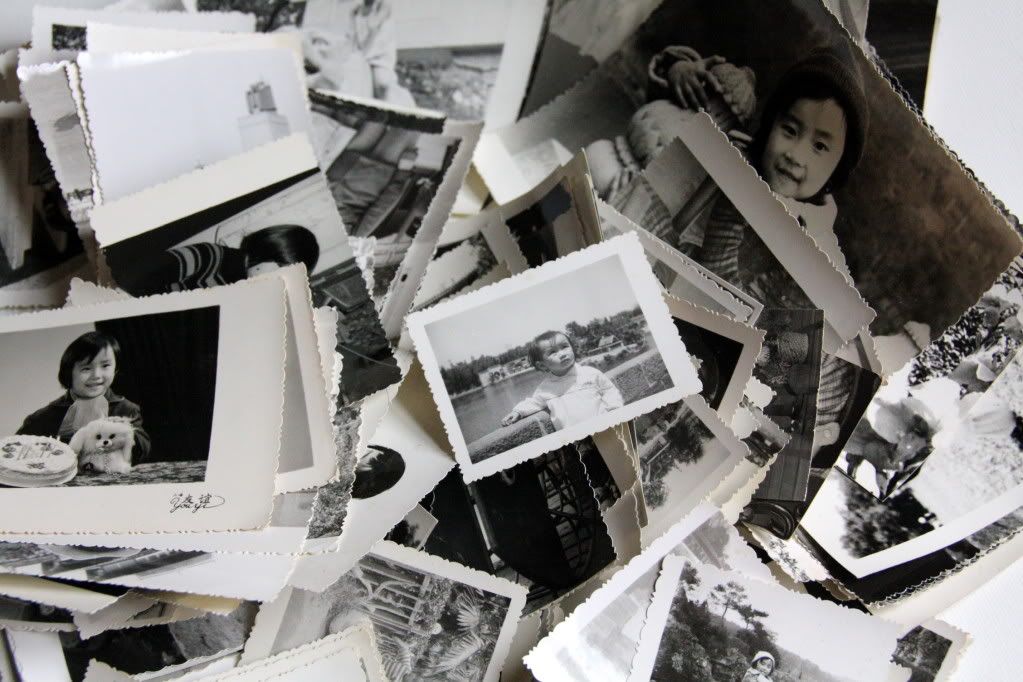 It is after examining some of the very early childhood photos of myself that I am finally understanding where Second Child gets her abundant and quirky facial expressions :)

There were some extremely rare "daily life" shots in the stash. I imagine dad was trying to finish up a roll of film, because otherwise, photography was strictly for when we were visiting places.


I was immediately anxious to scrap a photo from the stash. I know I should scan the photo and preserve the original, but I figured that once it is scrapped, the original is preserved, lol. Serendipitously, the
Front Porch Kits' June kit
had just arrived, and it is so easy to interpret the papers and embellishments in the kit as vintage perfect. I picked out this important photo, and because it is small, I framed the photo onto the layout like a wall hanging.
The year was
1982.
That's right, I got it wrong on the layout and I'm too lazy to re-photograph! My father's birth parents held their only family reunion in Beijing. They had eleven children, among them, the 8th (my dad), 9th, and 10th children were adopted by other families, and this was the only time when all eleven children gathered under one tiny roof for ten days. Talk about a logistical nightmare in the days when telephones were not available to ordinary Chinese people. This was/is the only time I've met most of my uncles, aunts, and cousins, most of them known to me by their relationship to me, and not by name. Can you spot me in the front row?
All in all, this is a family situation that I will never quite comprehend. This is my dad's birth family, but he also has an adoptive family where he was the only child. That was the family I knew and grew up with, my birth paternal grandparents were in a separate reality. Somehow, none of these things conflicted with each other? I don't even recall when I was told about my birth grandparents, probably right before we went to Beijing in '82. Somehow my dad was always very clear about who his "real" parents were and the ones in Beijing were just extra bonus? I don't know, and the Chinese do not ask...
If it is strange that I did not journal at all on this layout, it's because I have too much to say. I'm documenting the few thoughts I have in this blog post right now to go with the layout. I wouldn't be surprised if some of the passages here find their ways onto future layouts as journaling.
I did some fussy cutting of the MME papers and layered them with 3-d foam dots. Like I said, I'm trying to go for that framed look: layers with 3-d looks. I used a little bit of yarn that came with the kit to "hang up" the frame.
This has been a verbose post, and before I go, here is the
Front Porch Kits' June kit
I used to create this family layout. Isn't it a glorious display? :) There are a few kits left yet, so get yours! :)
One last thing, thanks to
Christine
, I now have a new profile photo, woohoo! Good thing this happened on Saturday because by Sunday, I got a full blown facial rash from sun exposure. I am quite miserable right now. In the words of Kramer from Seinfeld... "Look away, I'm hideous..."